Wonky no more
Submitted by
Lew Pitcher
on July 15, 2013 - 21:42

Printer-friendly version
I've had a busy spring and summer, working around the cottage. You can find me there most weekends, fixing something. Mom and Bob tried to keep the cottage going, but in recent years, neither had the money or the energy to do the hard things.
Last summer, I replaced a "deck" that was rotting out; Mom had stepped on a board, and wound up knee-deep in it. Not a good thing for a 79-year-old to have happen. So, I went up with a load of lumber and two bags of ready-mix concrete and replaced the deck with something a bit more stable.
I used the concrete for a footing for the stairs coming down from the deck. Unfortunately, I didn't have enough concrete to properly pour the footing, and the footing that I did pour was akilter enough to make the stairs slope visibly as well. I promised Mom that I'd replace that footing this year, so that the stairs wouldn't be "wonky" any more.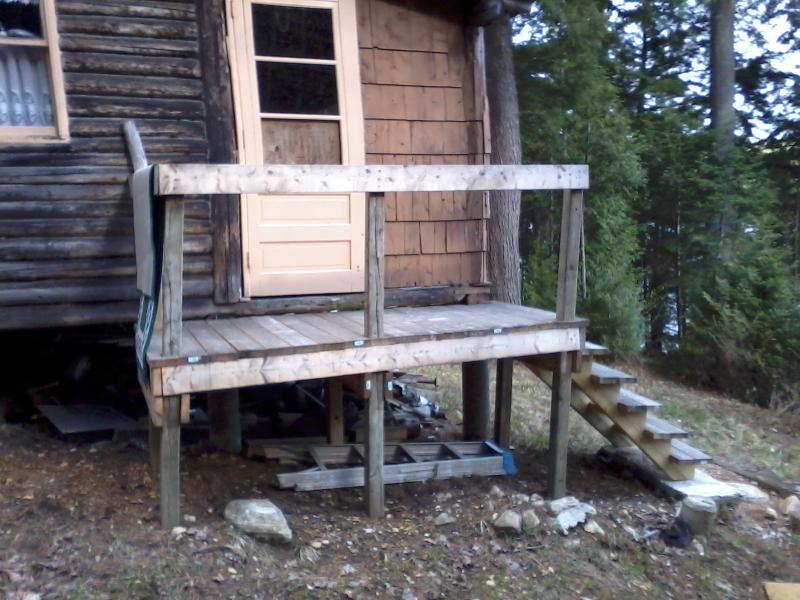 Mom passed in December, and I've been busy taking care of both her and Bob's estate. I opened the cottage in mid-May, with the goal of fixing the footing and stair "first thing". Well, first thing turned out to be some much-needed repairs on the back entrance, along with some new furniture, and some reorganization of other things. In other words, the new footing and fixed stairs got pushed back until more important work had been completed.
Last weekend (July 6&7) I went up with the specific intention of fixing the "wonky" steps. I brought five 30kg bags of ready-mix concrete, and a properly designed concrete form. I heaved all five bags up the hill, took down the stairs, busted out the old footing, and laid out the new footing. Using a hand mixing barrel, I mixed and poured my five bags of concrete. And, I found that I didn't have enough concrete to finish the job.
That's the way it goes, up there. You plan expertly, well in advance, and you bring all the required tools and materials, or you get only half the job done.
This past weekend (July 13&14), I returned, with six more 30kg bags of ready-mix concrete, and a bottle of concrete bonding agent. Again, I hoisted all the bags of concrete mix to the top of the hill, and got out the mixing barrel. After spraying a good coating of bonding agent on the previously-poured concrete, I again mixed and poured concrete into the form. It only took four bags of concrete to finish the job (the other two, I'll save for other jobs around the cottage). I levelled out the footing, gave the surface a nice finish, and when it had set enough, I reconstructed the stairs.
Now, I no longer have "wonky" stairs. But, I do need a railing.