Waterfront Improvements
Submitted by
Lew Pitcher
on September 7, 2016 - 12:55
Another visit to the cottage, and more incremental improvements and repairs. This time, two jobs: painting the master bedroom walls, and rebuilding the deck at the waterfront.
Terry and I spent a few days at the cottage, doing more fixups and a bit of relaxing. Terry chose the odious job of painting the walls in the master bedroom. The interior walls had been panelled with cedar shingles, which were urethaned and dark. Terry took a day to paint them with an oil-based paint (one that would stick to the urethane) to lighten them up. It was a difficult and messy job, but she prevailed and now the bedroom looks a lot brighter.
I, on the other hand, pulled apart the deck at the base of the stairs. The old deck had started to fall apart this summer, and had never been very level or stable. Made from scrap lumber and three logs, it simply existed to support the stairs. It rested on rocks laid on the ground, and sloped drastically towards the shore. The middle log had rotted out, and the outer two logs were no longer very stable either. It was a small deck (about 5 feet by 3 feet), and you couldn't really use it for anything. So, it had to be replaced.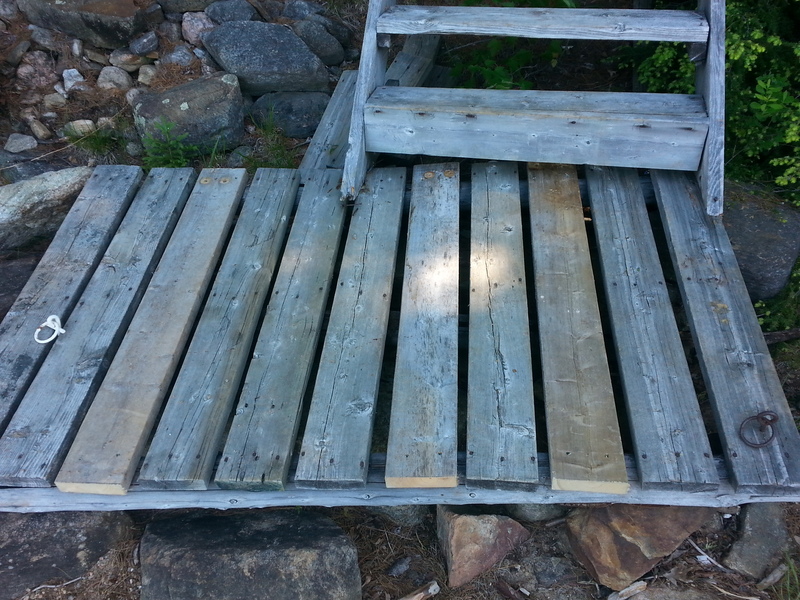 I have a plan, of sorts, of how I want my waterfront to look. A narrow boardwalk will extend right from the rock pier to a larger deck, which will extend right to the stairs. On the larger deck, you will be able to seat two chairs, for relaxing in the sun. Another long, narrow deck will extend back from the central deck and will hold a lounger or (when not in use) the canoe.
Since I don't have the lumber to build this entire setup in one go, I chose to build the central part first; the deck at the base of the stairs. I took two days to construct a ten-foot by four-foot deck, on posts, where the old deck had been. To it, I added a single step down to the beach, and posts that will support the lounger/canoe deck when I build it.