Exposed Roots
Submitted by
Lew Pitcher
on May 12, 2021 - 14:03
I grew up in surburban Toronto, in a home that my parents built. I have old black-and-white photos of the construction; my carpenter father framing out what he intended to be his "forever" home, and my mother taking the role of assistant and apprentice. We left that home late in the '70s, after mom and dad divorced, and I understood that the new owner removed the building and transported it Barrie-way to be used as a cottage. I've often thought of that house, and the effort, hardships and sacrifices that my parents made to construct it.
Recently, while on the GO train, heading in to Toronto, I read an article in the Globe and Mail about how a Barrie architect had fallen in love with the idea of releasing a modernized version of CMHC's "Small House" designs. From about 1947 onwards into the 1970's, CMHC published a number (in the hundreds) of designs for small "starter" homes, along with the offer of a full set of plans (for a modest $10 fee). The architectural drawings and blueprints were used by builders (both professional, and amateur alike) all over Canada, just like my parents had built our home in the '50s.
The Globe and Mail article intrigued me, so I visited the architect's website. And, then I visited the CMHC archive site to take a look at some of the original pamphlets. The first pamphlet I downloaded (in PDF form) had in it's introduction, as an example of an architect's "plan" view, the exact layout of my familial home. And, so, I did a bit more digging.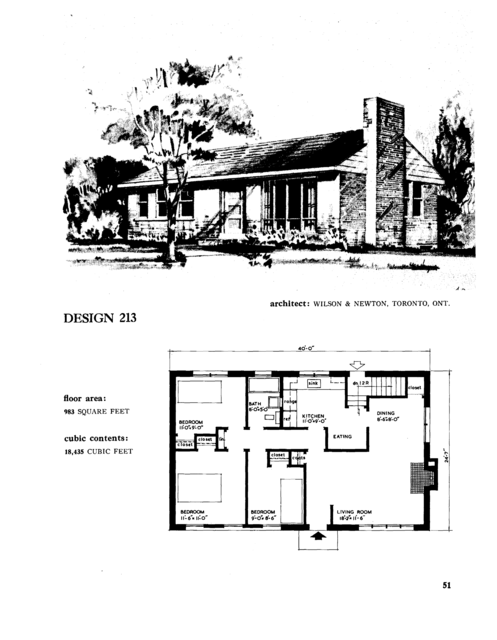 What I found was Small House Designs - Bungalows and Split Level Houses, issued by the CMHC in 1954. And, there on page 51 was "Design 213", by Wilson and Newton, Architects, Toronto. My childhood home.
Yes, there were minor differences; the kitchen counter was "L" shaped, extending from the range on the far left (where the refrigerator was spec'ed to go) to the fridge on the right (just beside the stairs to the rear door), and the "child's bedroom" in the front had built-in bookshelves, reducing the floorspace some. Later renovations would remove the "breakfast nook", extend the back wall of the breakfast nook into a low-wall to divide the dining room from the living room, and install a second low-wall between the front entrance and the "living room". But, there it is. The genesis of my parent's "forever home". What a find. Both of my parents have passed, but I know that they would have been pleased to see this.
So, I say to Dave Leblanc of the Globe and Mail, and to Thompson Arcitecture of Barrie, thanks. Thank you for the nudge that uncovered a part of my past I could not otherwise find.