2013 Christmas
Submitted by
Lew Pitcher
on December 6, 2013 - 22:50
Dear Friends,
Much has happened since last we talked, and much I have to tell you. First off, please excuse my absence last year; circumstances interfered and kept me from writing. So, rather than begin in 2013, let me start my letter in the fall of 2012.
In early September, 2012, my mother, who, with my brother Bob, had just returned from a weekend at the cottage, was admitted to hospital in Barrie with some unexplained symptoms. Being only 90 minutes away, I shuttled between Brampton and Barrie every couple of days, to visit her and keep track of both her and my brother, who stayed in her apartment while she was in hospital.
A couple of weeks passed and Mom was discharged from hospital, apparently as well as a woman of 79 could be. I shuttled her back to her home in Barrie, where we found Bob, incapacitated and helpless. Two days later, mom finally convinced him that his condition was serious, and he admitted himself to the same hospital that mom had just left.
Bob had been a lifetime smoker and drinker, and his lifestyle finally caught up to him. After a month in the hospital, he passed away from acute Liver damage. The date was October 13, 2012.
The rest of October and most of November passed quickly. I took care of Bob's funeral arrangements, made sure that Mom was OK, and (finally) took a two-week cruise with Terry. Half way through the cruise, I received a phone call telling me that Mom had readmitted herself to hospital.
When I got home, I immediately commuted to Barrie, to find Mom in the ICU, and the doctors waiting for me to give permission to treat her. A long and painful story short, Mom's cancer had spread and mutated, and she didn't have much time left. After about a month in hospital, always in the ICU, and often sedated, Mom passed away from respiratory failure. The date was December 19, 2012.
I spent the rest of December, and all of January, taking care of all the immediate, essential tasks that surface when someone passes away. I lived in two places, Brampton and Barrie, for those hectic, difficult six weeks, making her final arrangements, moving and selling furniture, cleaning the apartment, etc. Christmas and New Years, for me, were "just another day".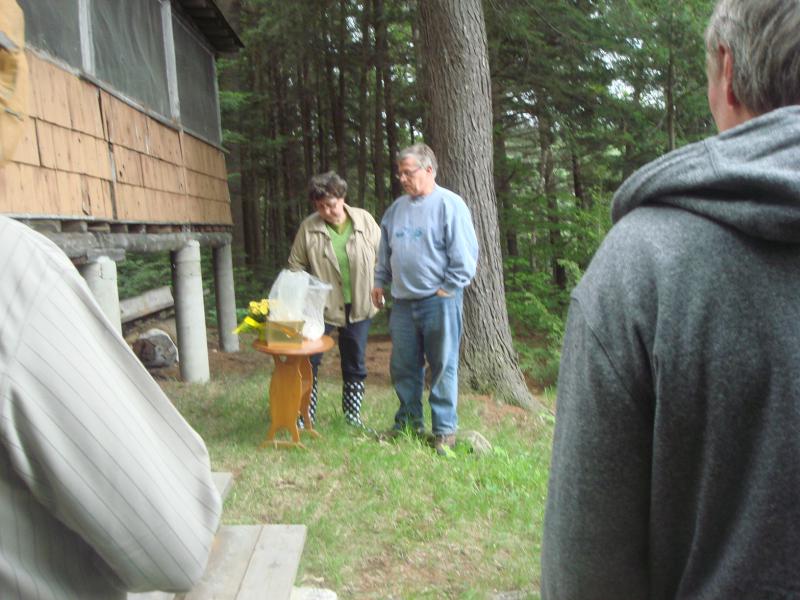 The winter passed slowly, as I got more of Mom's estate arranged and settled. Finally, spring came, and I trekked up to the family cottage to see how it had fared over the winter. Mom's final wish was to be cremated, and have her ashes scattered at the cottage. I made the arrangements for this to happen, and got some of her closest cottage friends to all attend one early June afternoon. Mom is now at rest, supervising and protecting the place and people she loved.
I spent the rest of the summer, and quite a bit of the fall up at the cottage. I inherited it, along with the carpenter ants, the dry rot, and the lumpy mattresses. There's a lot of work to be done up there, and I got a good start on it this year. I've replaced the beds, put in a new pantry and wash stand, got the chainsaw and both generators serviced, replaced the locks on all the doors, built a new sawhorse and log rack, and generally started to clean up 45 years of accumulated junk.
So, this year, Terry and I have not travelled much.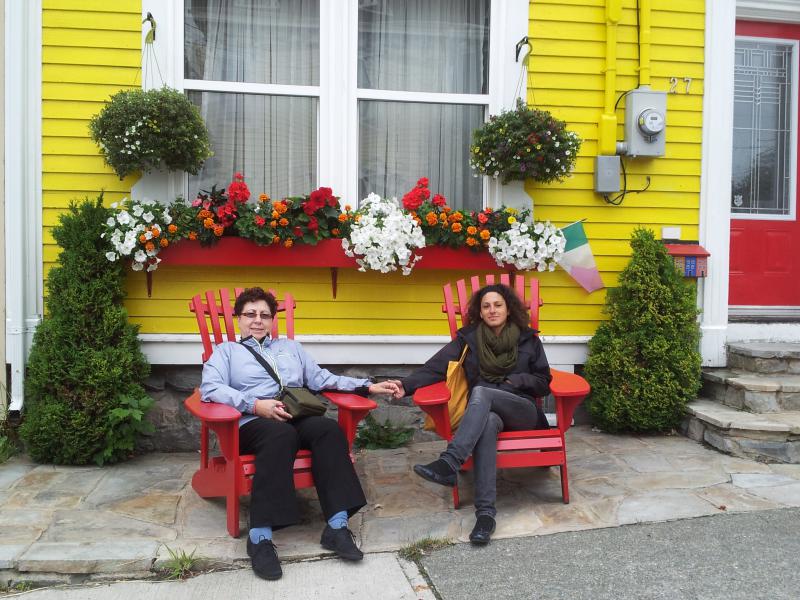 In the late summer, we spent a week in St. John's, Newfoundland, visiting with Katherine (Terry's daughter) and her boyfriend Rob. Outside of the occasional day trip around southern Ontario, or weekend up to the cottage, we've been fairly sedate. The troubles and tragedy of 2012 has faded, and we've embraced the opportunities and events of 2013 with open arms.
I hope that your year has been eventful, with nothing but good, and that you and your family have both a joyous Christmas and a wonderful and prosperous New Year.